On a la version française de cette site en préparation. Veuillez pardonner les gênes occasionnées. 
At Deux Mille Feuilles Montessori school our teachers, management and staff believe in growing naturally as children love to learn and to discover – in their own natural way. We believe that understanding, enjoying and respecting nature complements the classroom experience. Therefore we offer them a rich and stimulating environment inside and outside in nature. At our school children do not only learn for the moment, but gain a preparation for life. Our children learn to respect themselves as well as respect the differences of others. For us building self-assurance, developing trust in others and learning to respect go hand-in-hand.
We love the enrichment different cultures and languages from all over the world are bringing to our children. And we can see that appreciating different cultures and learning languages early in life are a pre-requisite to be at ease in today's complex world.
All this is at the heart of everything we do – and our promise to you by acting caring, personal and trustful.
The teacher at Ecole Montessori Deux Mille Feuilles
We invite you to read the article published about us on knowitall.ch in July 2016. 
Bilingual Montessori school in La Rippe near Nyon now under new management
Two parents in Vaud have recently taken over the management of the Ecole Montessori Nyon for the age group 3 to 6, to allow the school to focus more on the needs of parents and to ensure high quality AMI Montessori education for their children and those of other parents.
Renamed Deux Mille Feuilles, the school will cater for the needs of children aged up to 6 years, and will offer a unique bilingual version of the popular Montessori approach to education.
Cornelia Tosch, co-Director with two daughters at the school, told knowitall.ch, "We believe in child-centered education, that values and develops the whole child – physical, emotional, social and cognitive. At our school, children do not learn for the moment, but gain a preparation for life. Our children not only learn to respect themselves, but as well to respect others. For us building self-assurance, developing trust in others and learning to respect go hand-in-hand. We have built the school around 3 main pillars: high quality bilingual Montessori education; nature and health; and care and service for children and parents."
The school believes that full bilingual immersion is the most natural way to acquire a new language, so children spend one week immersed in English followed by a second week in French. There are two identical classrooms, one with English Montessori material, the other with French. Children alternate on a weekly basis between the English and French teachers, who are native speakers and AMI Montessori certified. The school follows the one-person-one-language principle so children can link one language to every person.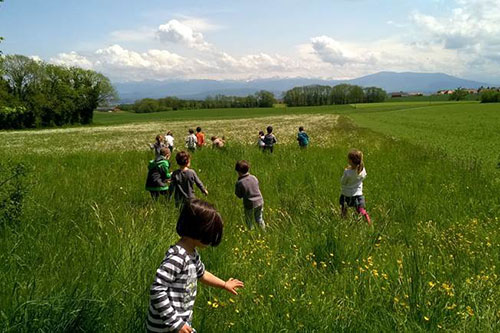 Situated on the foothills of the Jura mountains in La Rippe, Deux Mille Feuilles enjoys a uniquely idyllic setting. A large tree-shaded park serves as a daily play and discovery area for the children, who take regular walks through the fields and forest in the immediate surroundings of the school. When the windows are open, the children can also hear the sound of a nearby flowing creek.
Bilal Ojjeh, co-Director with a son at the school, told knowitall.ch, "Being a child- and parent-centered school means that we are very service-oriented, caring not only for the child but the parents too. We offer full day care from 7h30 – 18h00, a free bus service to Nyon and surrounding areas, and healthy meals that are freshly prepared on site every day. The personal touch is very important to us, and the small size of the school makes it possible to react flexibly to parent needs."
One parent with a child at the school told knowitall.ch, "We chose the school as they offer bilingual Montessori education combined with a high level of service - the combination of pre-school, lunchtime and after-school care all in the same location, transport from the surrounding areas, and the bilingual schooling, as well as the Montessori teaching methods. But on top of that, we love the setting in the middle of the forest - what a great place to go to school! All this topped off with the amazing and friendly pastoral staff, and this school is a winner!"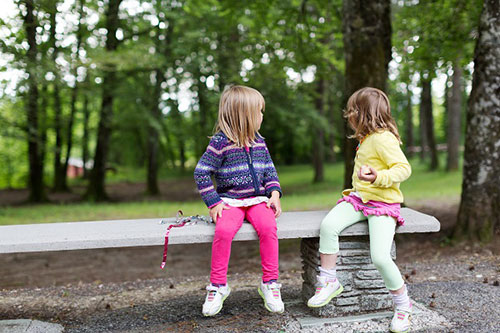 Classes start at 9h and end at 15h on Mondays, Tuesdays and Thursdays, and 12h on Wednesdays and Fridays. Free before-school care is offered between 7h30 and 8h45, but there is an additional charge for after-school care until 18h.